Sitting on her couch at home, the groom's sister is crying out of emotion when she witnesses her brother saying "I do"… via Facetime on her phone! She couldn't make it to Puerto Rico, but she still was able to witness the newlywed couple kissing each other under the Puerto Rican sun. And suddenly, she finally had an official brother-in-law! That's right, this wedding is GAY! And my first same-sex wedding in Puerto Rico.
As a gay French citizen, same-sex marriage isn't extraordinary to me. I was relieved to see that Puerto Rico embraces the LGBT community.  Same-sex marriage in Puerto Rico has been legal since 2015 thanks to a US Supreme Court decision.  So when a gay couple from the states asked my recently officiated husband to perform a same-sex wedding in Puerto Rico for them on the beach next to our guesthouse, I immediately knew this would be an emotional moment for me as well. Indeed, it was.
Jeff and Mark wanted a very simple ceremony. A few friends and family, Ocean Park beach by sunset and a bottle of sparkling wine was perfect for their day. Jeff's mother and brother had secretly flown in to surprise the, and a few close friends joined as well. Some of Mark's relatives live in the Dominican Republic – super close to Puerto Rico, but much more conservative, and they chose not to join. In fact, there are still quite a few Caribbean islands where same-sex marriage is not ok, and progress for equality in the LGBT community is still many years back compared to Puerto Rico and the states.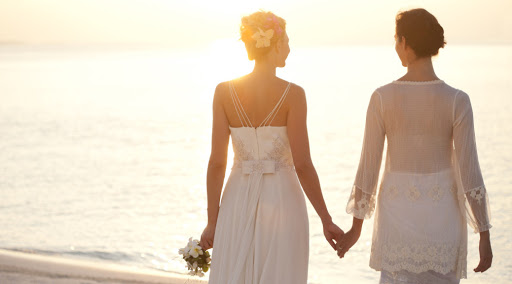 Not only was my husband the officiant for the ceremony, but we also were hosting the couple at the guesthouse. We really wanted this day to be perfect for them. I bought some flowers and prepared a nice bottle of bubbly to put in their room while Rob was rehearsing his part. We all walked to the beach and let the Puerto Rican atmosphere do its magic: the sunset, the warm breeze, the waves crashing on the sand, and a few tears of joy among the many smiles. Puerto Rico really has this way of bringing everything together: it's festive, it's romantic, it's exotic, it's the perfect wedding occasion.
Since Mark and Jeff's same-sex ceremony, we've been lucky enough to marry another queer couple, who had already been together for no less than 25 years! And we cannot wait for more opportunities to celebrate love with our guests. Make sure to check out wedding directory to get a jump on planning and check out our wedding packages (or contact us to customize an option set for you)