If you have never heard of Vieques, it should be added to your bucket list. Now that it's on your bucket list, let me tell you our recommended way to do Vieques the right way. And of course, with a gay flair. But first, we need to explain about getting to Vieques.
Vieques is a small island (about 5 miles wide by 20 long) approximately 8 miles east of the main island of Puerto Rico. It may be a small island, but it offers a lot of unique experiences. It is also known as being very gay friendly and accepting of the LGBTQ+ community.
Getting to Vieques:
First things first: how to get to Vieques? Sure, there is a ferry (from Ceiba), but I do not recommend this for a few reasons. You should take it seriously when a gay man tells you to avoid a fairy ;). One reason to avoid the ferry: you'll need a rental car to get to the ferry terminal (or an $80 Uber/Taxi) each way). Second, my experience has been that the ferry is unreliable. You have limited vacation time, why take the risk that the ferry is broke or oversold? Another option for visiting Vieques is a day sail, which is occasionally offered by different boating tour companies. I do not recommend this either, as you should take more than a few hours to enjoy Vieques. The entire island vibe of Vieques cannot be appreciated unless you stay a few nights. Rushing around to see the sights offered defeats the entire magic of Vieques.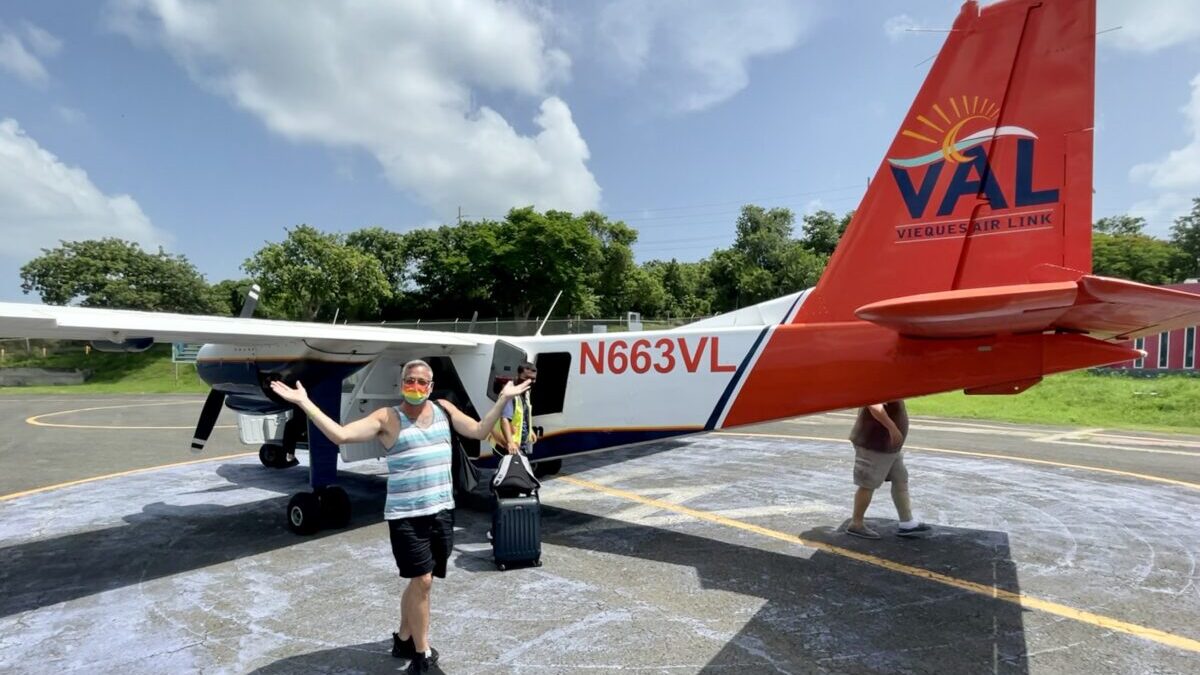 This leaves our preferred way of getting to Gay Vieques….airplane. Planes fly out of both San Juan International – SJU (where you'll need to pass through TSA) and they leave out of Isla Grande Airport -SIG, where the boarding process is way more relaxed. We highly recommend you fly out via SIG airport. You can literally bring a bottle of rum, or your sunscreen or whatever else TSA would normally not let you carry on. Either airport is easily reachable by Uber for much less than $20 each way from Coqui del Mar, a gay clothing optional San Juan hotel.
Our preferred choice for flights: Fly out of SIG (Isla Grande Airport) to Vieques As little as $160 round trip. The airlines currently flying from SIG are https://www.viequesairlink.com/ Sometimes https://flyairflamenco.com/ offers flights to Vieques as well. Another option is to charter a flight: https://taxiaereopr.travel/ This can hold as many as 6 passengers. It will cost the same whether you're one person or 6, so it's best to convince a few friends to join you.
Second choice: If SIG flights are not possible, then take a flight from SJU (you will pass through TSA, so leave all the normal liquids and gels at home, or use checked luggage). If you have a license for medical marijuana, you should not have a problem flying with it as Vieques is in Puerto Rico. The air options include https://www.silverairways.com/ and https://www.capeair.com
Third choice: If you have a rental car, then why not make the most of it. You can drive it to Ceiba where flights to Puerto Rico are about $40 each way. Parking is secure in the airport parking area. Your flight options are https://www.viequesairlink.com/ or occasionally, https://flyairflamenco.com/ If you do this option, then you leave open the possibility of taking the ferry back from Vieques. I've never had any problems taking the ferry from Vieques to Ceiba. It's a 30-minute ferry trip, costs just a few dollars, and is a good option if you're having problems finding return flights. Realize you will need to take a taxi to the airport to get your car as it's a few miles between the two.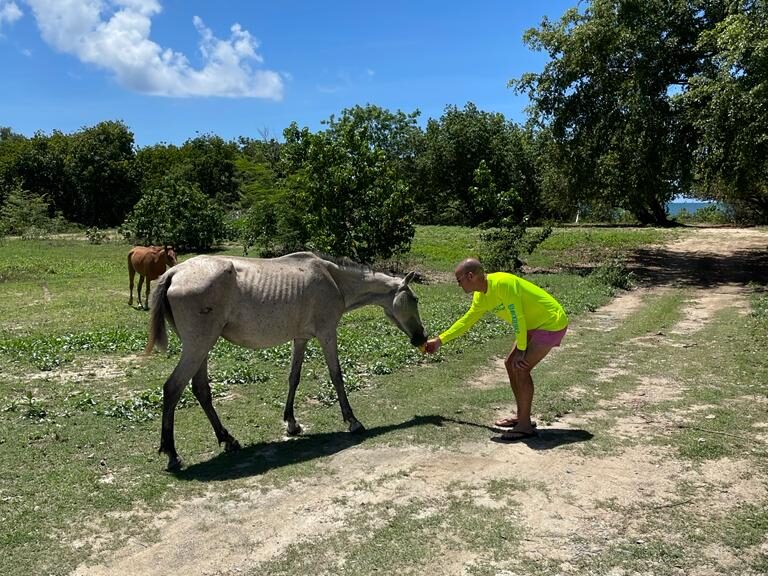 Where to stay:
Our recommended gay stay is at the only gay-owned guest house in Vieques, https://casadeamistad.com/. They have a cute, comfortable, updated, and eco-friendly guesthouse with a beautiful pool in the heart of Isabela, just a few minute's walk to the ferry terminal and to the best place to see the sunset in Vieques, Saint Voodoo's Mar Azul https://www.facebook.com/MarAzulBar/. John and Mike, the owners at Casa de Amistad, will treat you like family and have a lot of great advice on the best beaches, restaurants, etc.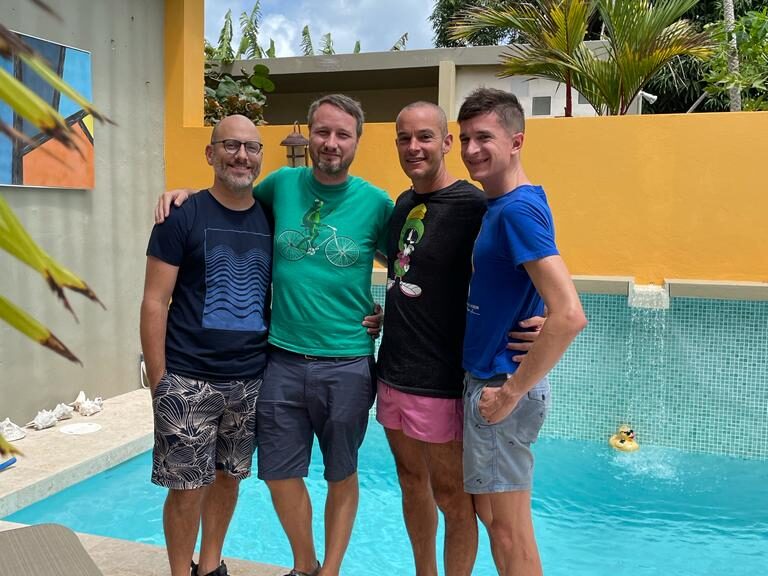 Where to eat:
Concerning restaurants, one that you'll want to get reservations about prior to your stay is at http://www.elquenepovieques.com/. It's one of the best restaurants I've eaten at in Puerto Rico. For that reason, it's packed every night. So get your reservations early. Otherwise, there are supermarkets and casual places to eat close to Casa de Amistad.
How to get around:
You'll definitely want to rent a Jeep during your stay in Vieques. We rented at http://www.islandcarrentalpr.com/. Jeeps are the best way to get around in Vieques as it's an island 20 miles long. The roads can be rough if you want to explore the isolated beaches, and a jeep 4×4 is the only way to get out there. Currently, the price is $85 per day. They offered free airport pickup (about a 5-minute drive to their office) then I returned to pick up my friends. They were happy to wait at the bar/restaurant just across the street from the airport. Make sure to make your rental reservations in advance because there is a shortage of vehicles on the island.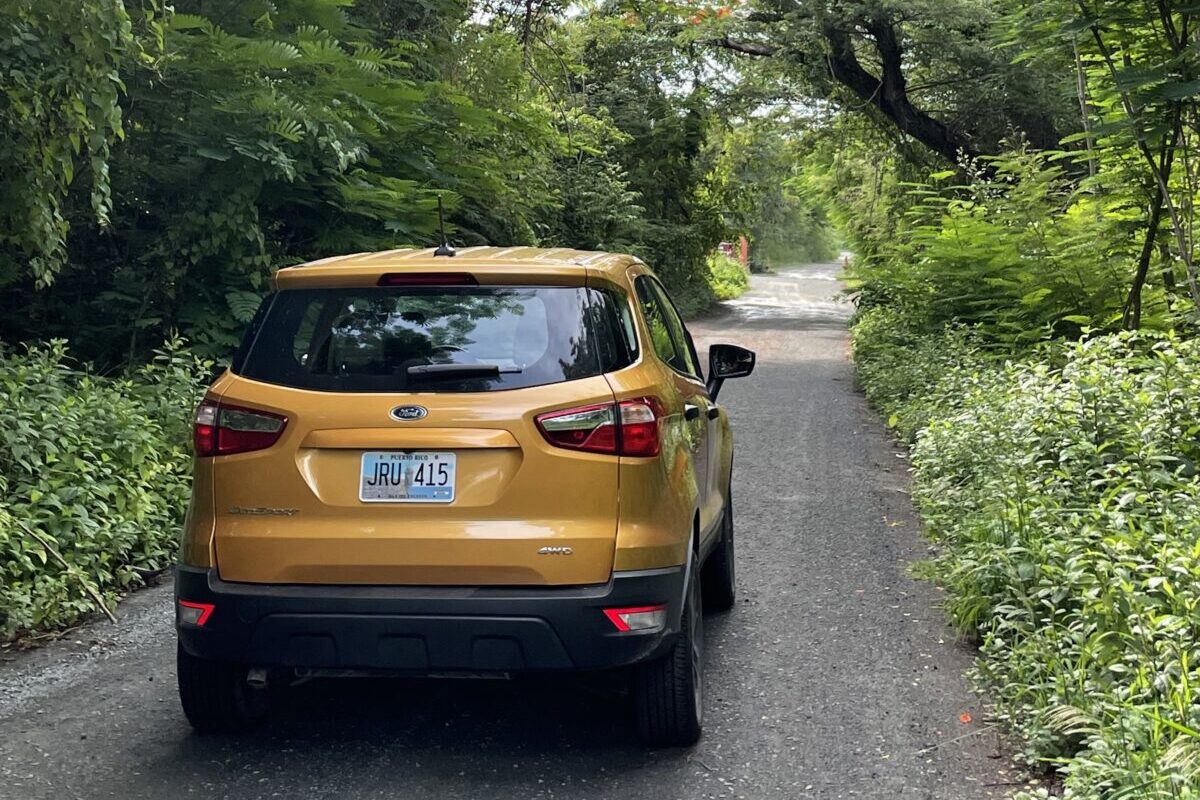 We'll have a follow on an article about more things to do in Vieques and how best to do it, but I will mention the wild horses, the cute museum, the black sand beach, and other amazing beaches, some of the best snorkeling I've ever experienced (I've seen sea turtles every visit) and of course, the Guinness Book of World Record's "brightest phosphorescent bay".
We'll add below a few other helpful links for your travels:
Our preferred bio bay kayaks: http://jakwatersports.com/ (they have glass bottom boats
The museum in Esperanza http://www.vcht.org/ 138 Flamboyan Street in Esperanza (right on the main strip) is worth the visit.
Coqui del Mar organizes gaycations which include a few nights in San Juan, transport to another gay destination, activities and return to San Juan.

We'd love your help designing the perfect gaycation! Answer a few questions about what would make the trip perfect for you:

DESIGN YOUR PERFECT GAYCATION