The north coast of Puerto Rico is one of the premiere kite boarding spots in the world.  Our neighborhood is known as Ocean Park and is just next to Punta Las Marias – these and are recognized in many kitesurfing and print magazine and websites, such as USA TODAY.   
The north coast of Puerto Rico offers the trade winds, which offer reliable winds most of the year.  From December to April there are typically larger waves, while July to September is flatter water.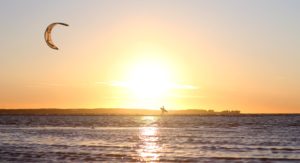 15 Knots Kiteboarding is about 1 mile from us in Isla Verde.  They offer from beginners to expert lessons and equipment and are a full service shop.
Windaddiction is another kitesurfing school and equipment rental about 10 minutes walk from us.  They offer private and group lessons, a chase boat, and package lessons.
KitePuertoRico is in front of Numero Uno guest house (about 10 minutes walk) in Ocean Park and offers refresher courses, beginning to advanced with IKO certified instructors.

Stay with us and learn to Kite Surf during your vacation
You've dreamed of learning to kite surf but never had the time? Life is short. Take the time and commit to a few lessons. You'll be surprised how quick you will be sprinting across the water.