Winter Pride and Miss Gay Puerto Rico 2021
Join us for the Ultimate Gaycation
December 9th-16th
Staying at Coqui del Mar for San Juan's Winter Pride featuring exclusive dress-rehearsal invitations, drag shows, pool parties and VIP dinners.
Then escape to Vieques at Casa de Amistad for poolside relaxation, hidden beach exploration and the world's brightest biolumenescent bay.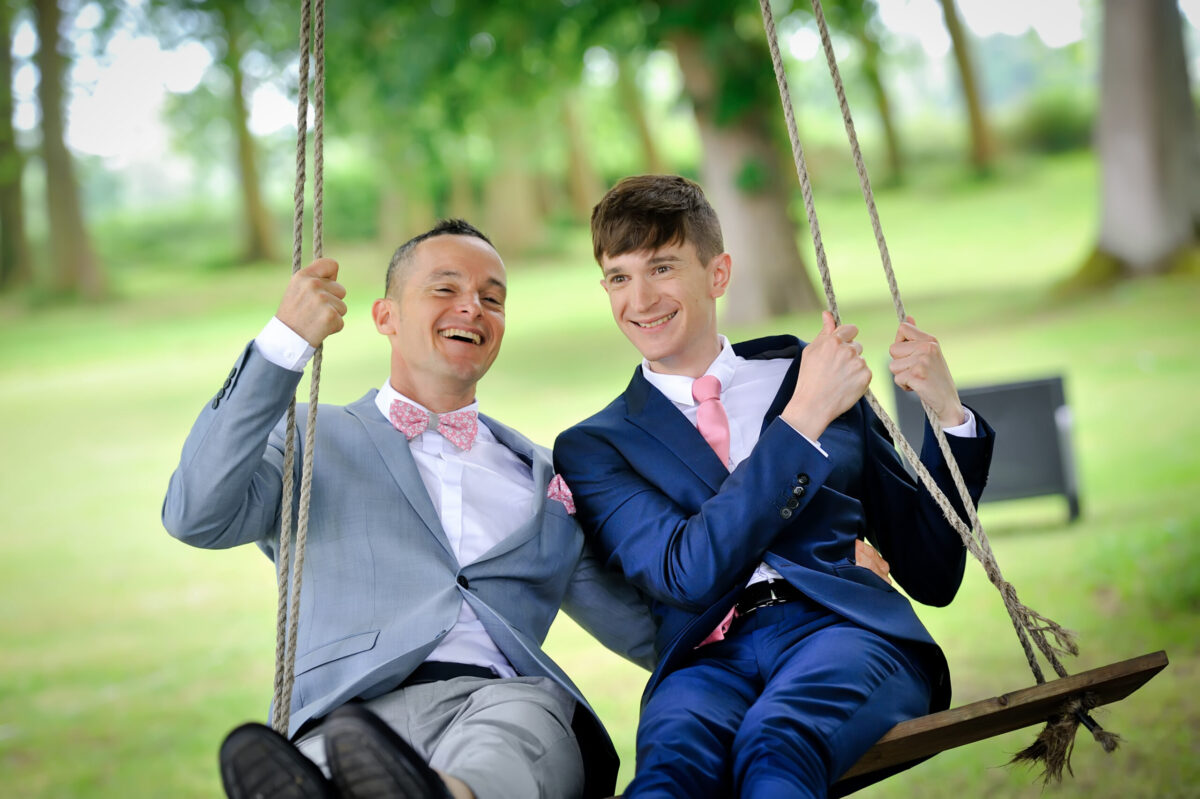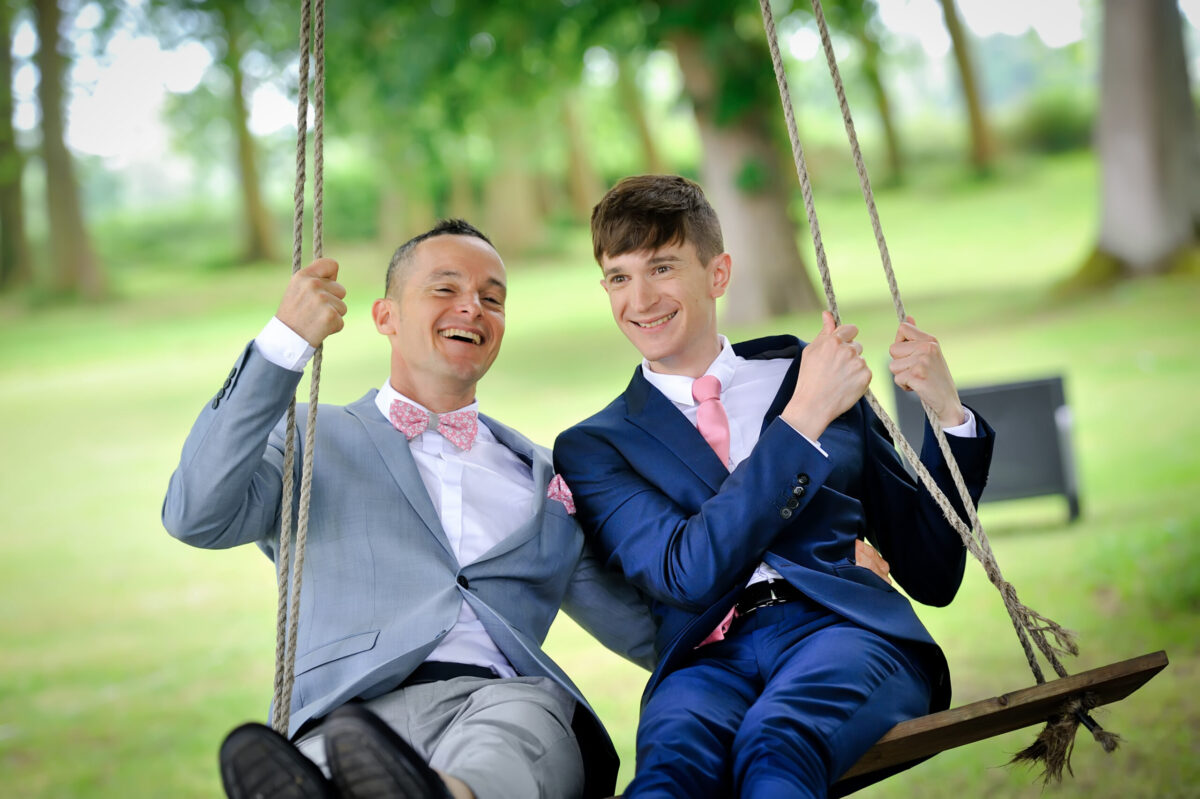 He had me at Bonjour. It sounds cliché, but, we met in Paris – one Californian ex Coast Guard (Rob), and a Parisian local (Vianney). Vianney had him at Bonjour.  Rob had just finished 18 months at Le Cordon Bleu and was just starting studies at Le Cours Florent, an acting school in Paris (anything to keep the student visa).  Vianney had graduated from Le Cours Florent a few years previously, which they discovered over their first glass of wine.  The rest is history. 4 years later they were engaged.  They married in a château in Bordeaux …
Green friendly
After the devastating hurricane, we moved to Puerto Rico to take over our guesthouse and concentrate on not just recovery, but building something better. Something as gay as Paris, as tropical and fun as the people of Puerto Rico, and as sustainable and green-friendly that could rival any Californian hotel. Sure we have solar-heated water and we recycle, but we wanted to go further.  We created a community food share to reduce food waste (and allow guests a free selection of grocery items that others had left).  We also built rainwater cisterns and repurposed the clean water dripping from the air conditioners.  (The water now feeds our gardens and tropical plants).  We have completely eliminated single-use plastics.  And we offer free bicycles to encourage green transportation.  We offer an organic mango tree and herb garden for our guests.  We have further to go to be sure.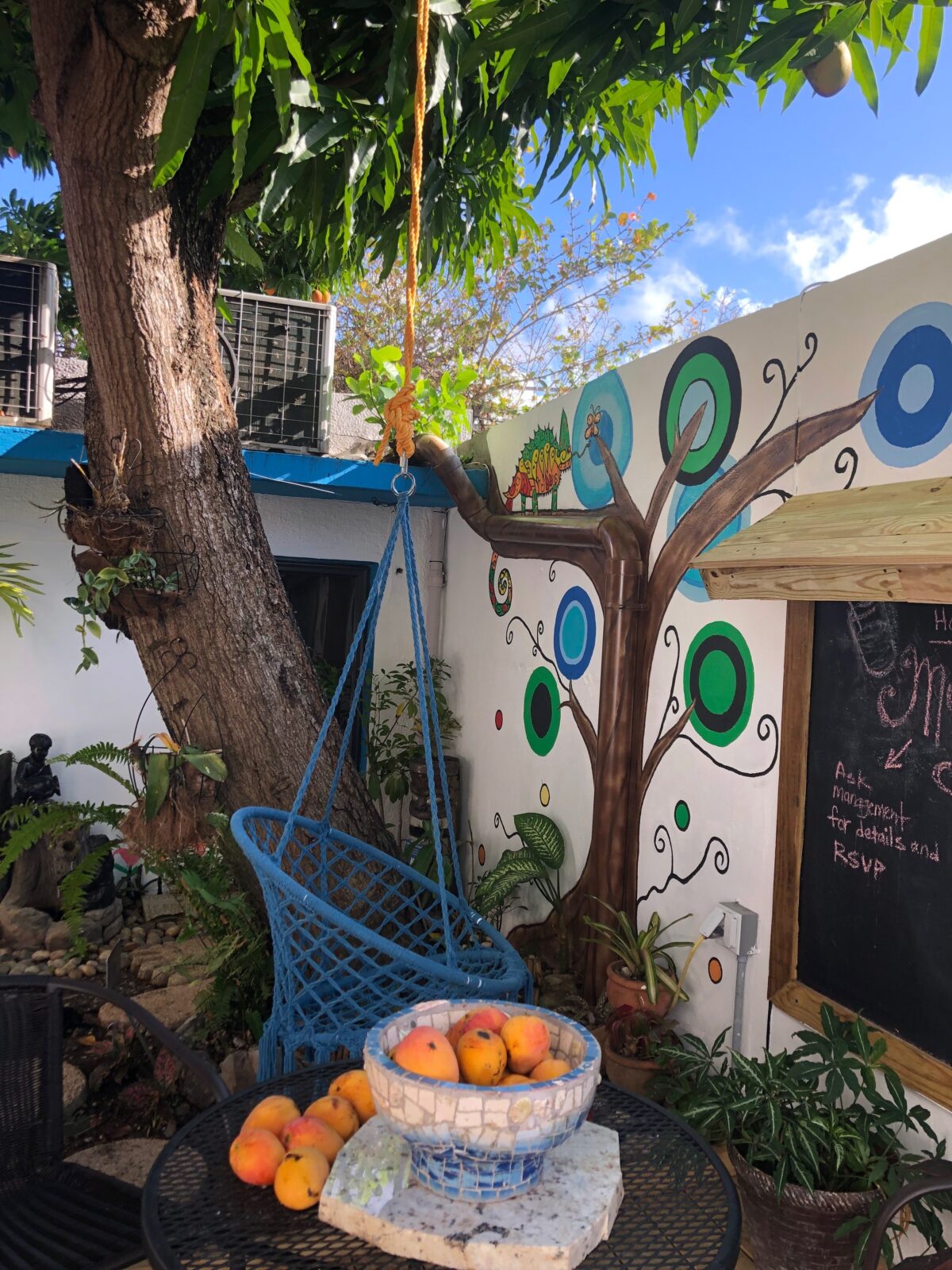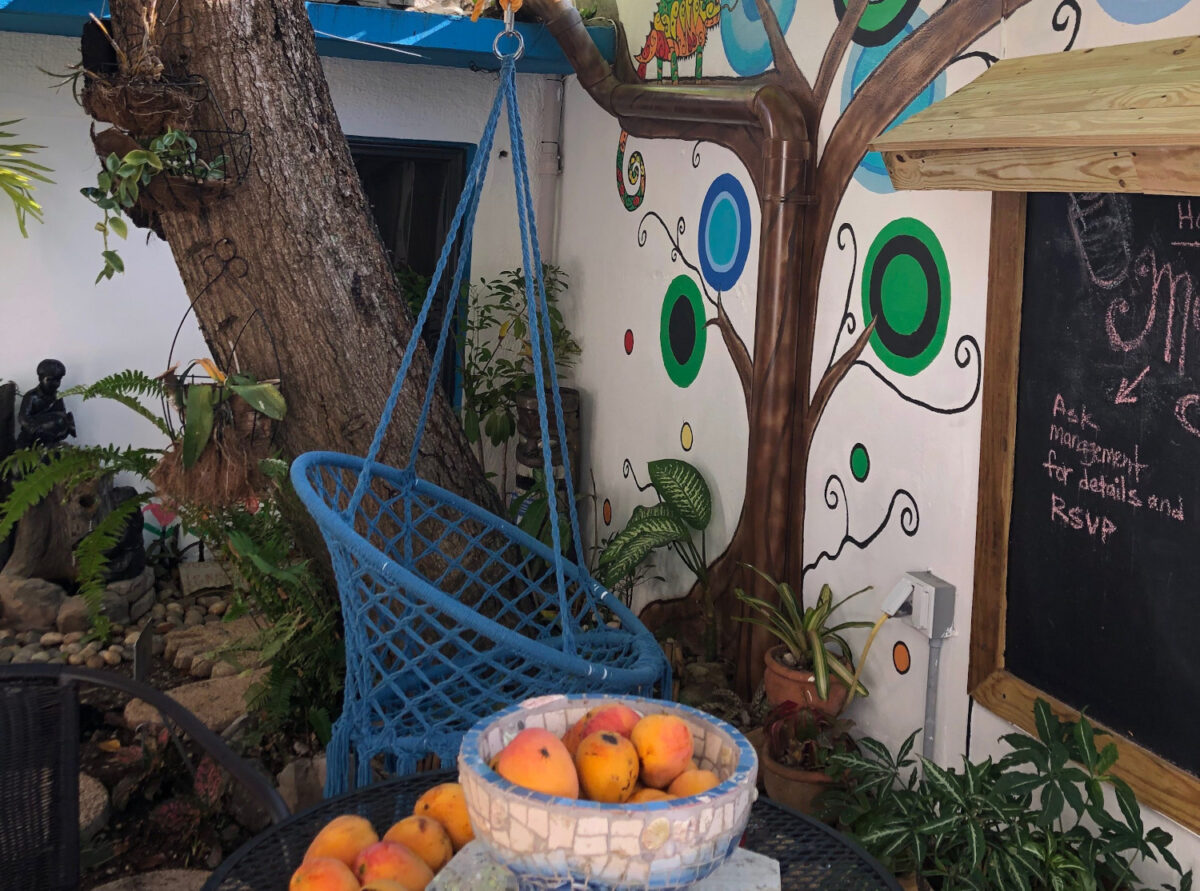 AND green friendly/420 friendly 🙂
When talking "Green friendly", we're not just referring to ecologically friendly…We are 420 friendly as well. We will even assist you in the steps necessary to obtain your medical marijuana card. Get your medical card a few days before you plan to arrive so that you can enjoy your vacation the way you want.  We allow outdoor consumption in designated areas. Never indoors (except for vaping).  The nearest dispensary to us is BWell; they sometimes recognize medical licenses from other states.  There are many other dispensaries, and with your medical card, you can go to any of them.  The medical examination is via phone/video call and takes just a few minutes. Within 24 to 48 hours, you have a license emailed to you.  Cost is typically less than $100 and is well worth it for the quality, safety and cost savings.  We do not permit illegal drugs on the property.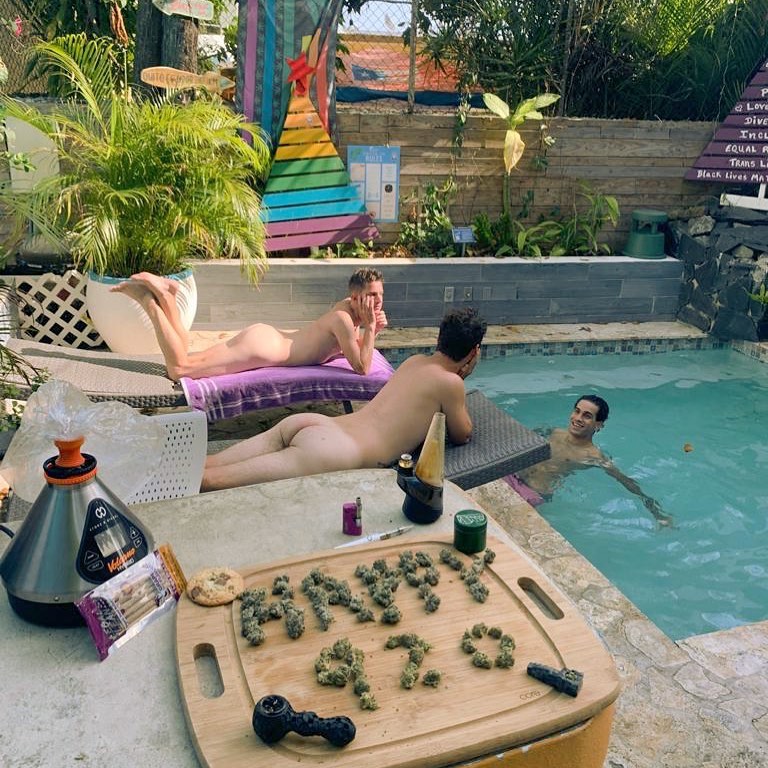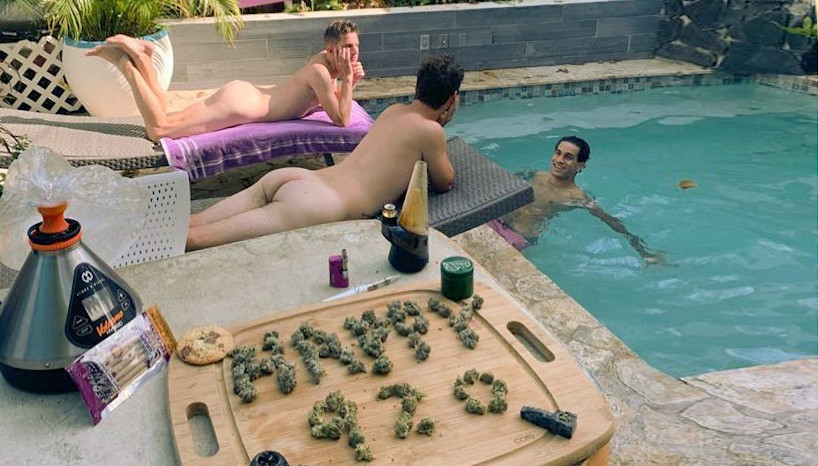 Get the tan you want:  Clothing optional  
We are the only clothing optional guest house in San Juan.   After all, we lived in Europe too many years to care about tan lines.  Bathing suits are welcome, as are birthday suits.  We have a few rules to ensure your privacy and goodwill with the neighbors.  With COVID, we have privatized all pools and jacuzzi, so unless you invite a new friend, you will be catching sun privately with the guests you are traveling with.  Post COVID, we will resume our weekly Saturday pool parties.  Daily passes are available for Saturdays, where you can enjoy our pools and jacuzzi or lounge room use from 10am to 7pm.  (this is suspended during COVID)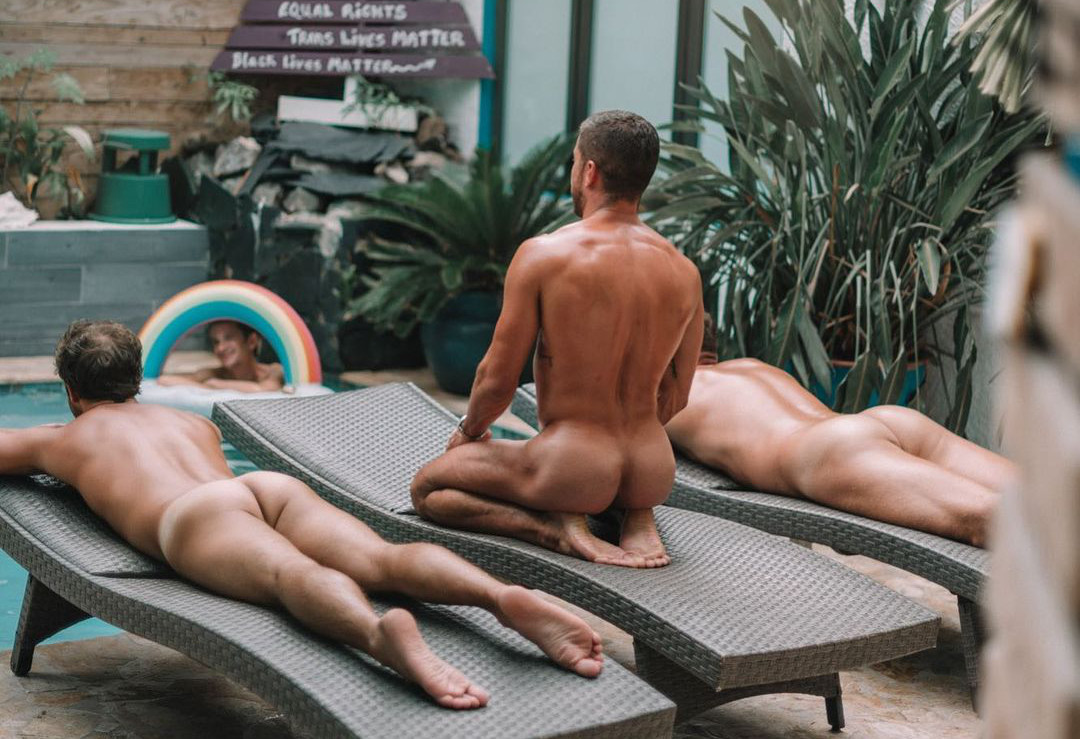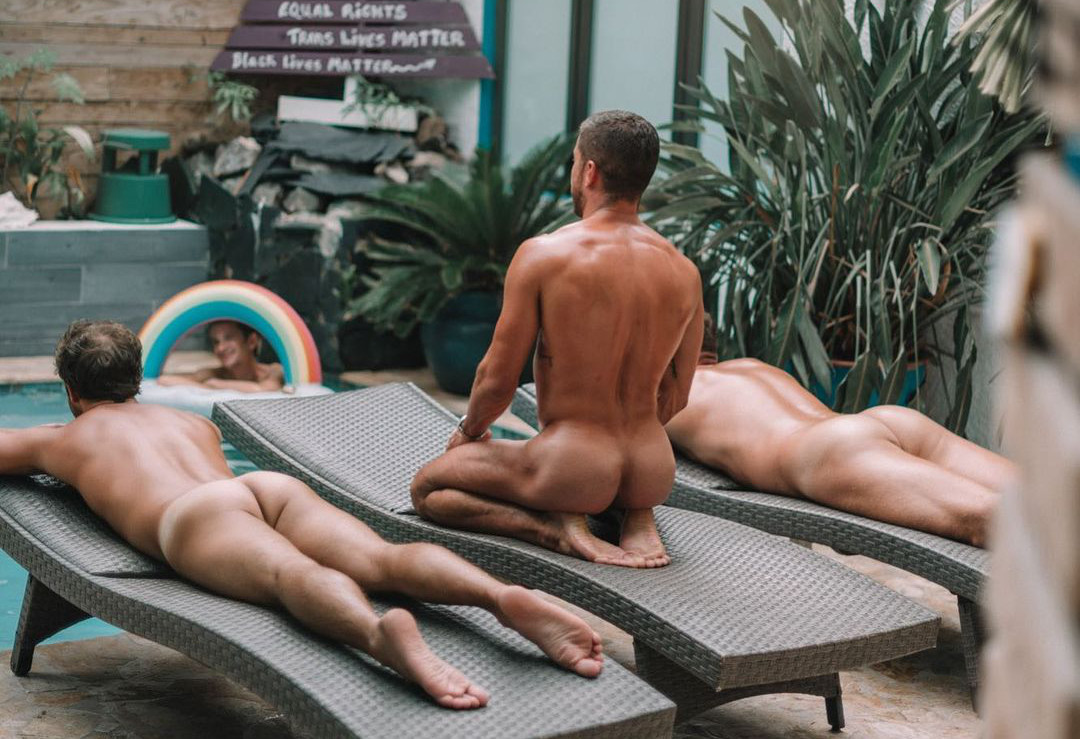 The Queerest Place in the Caribbean
Coqui del Mar is not just a place to sleep, but a place to gather and meet others. We are a queer-friendly place not just for gay men, but for the entire range of LGBTQIA, where all feel at home and welcome. Proud to come as you are. And where inhibitions fall away.  We actively support the LGBTQ+ community, participating in PRIDE, and we spearheaded and organized the first Winter Pride for Puerto Rico, now taking place the 2nd weekend of December annually. We are proud members of IGLTA, and sponsor GLAAD for their annual auctions. We have partnered with Go Naked from New York to host events at our guest house, and sponsor and participate in community events. For both 2019 and 2020 we have been nominated as the best Gay Inn worldwide by GayTravel.com  We are a safe place for all and especially would like to reach out to the transgender community… You are safe here.  You are welcome here.  You are family here.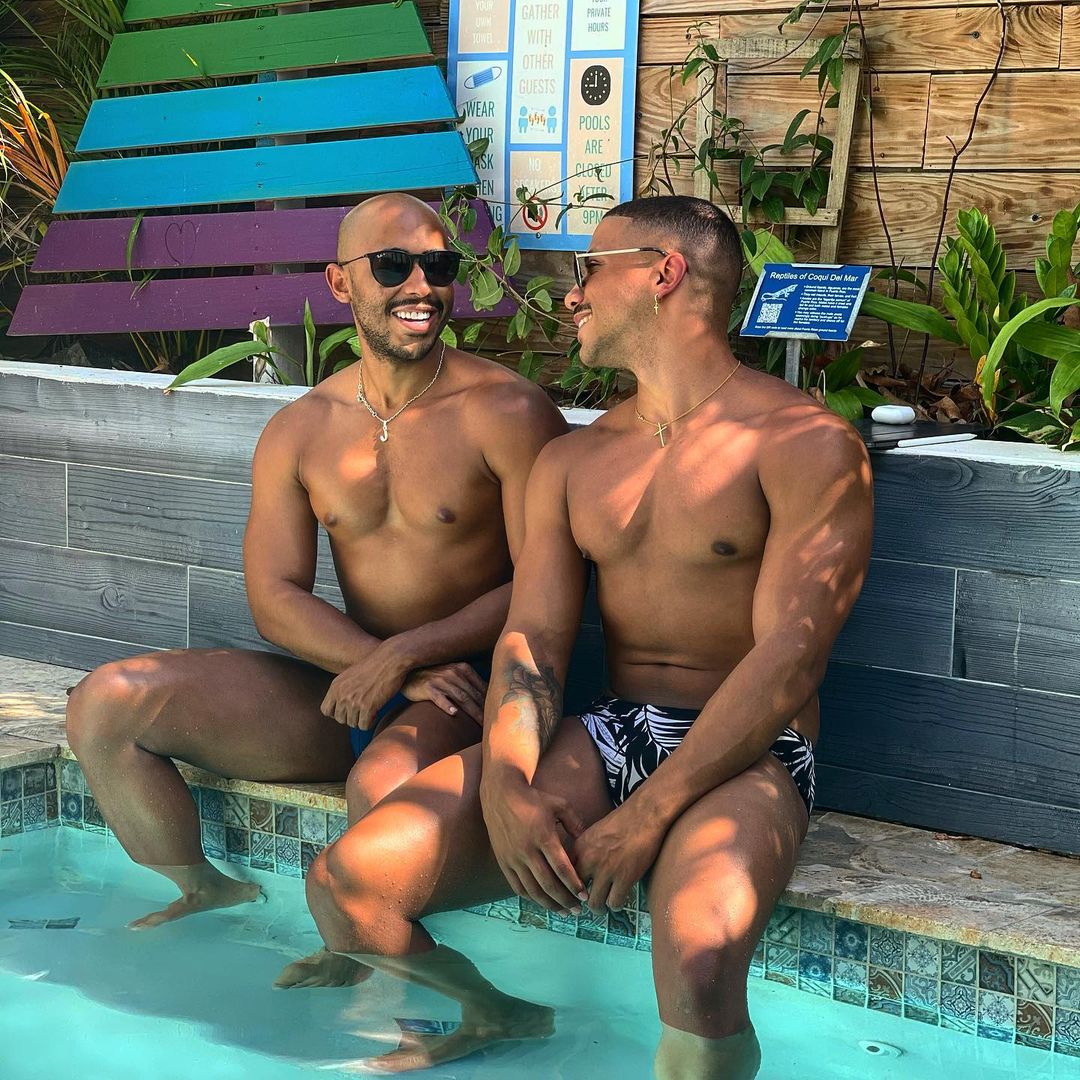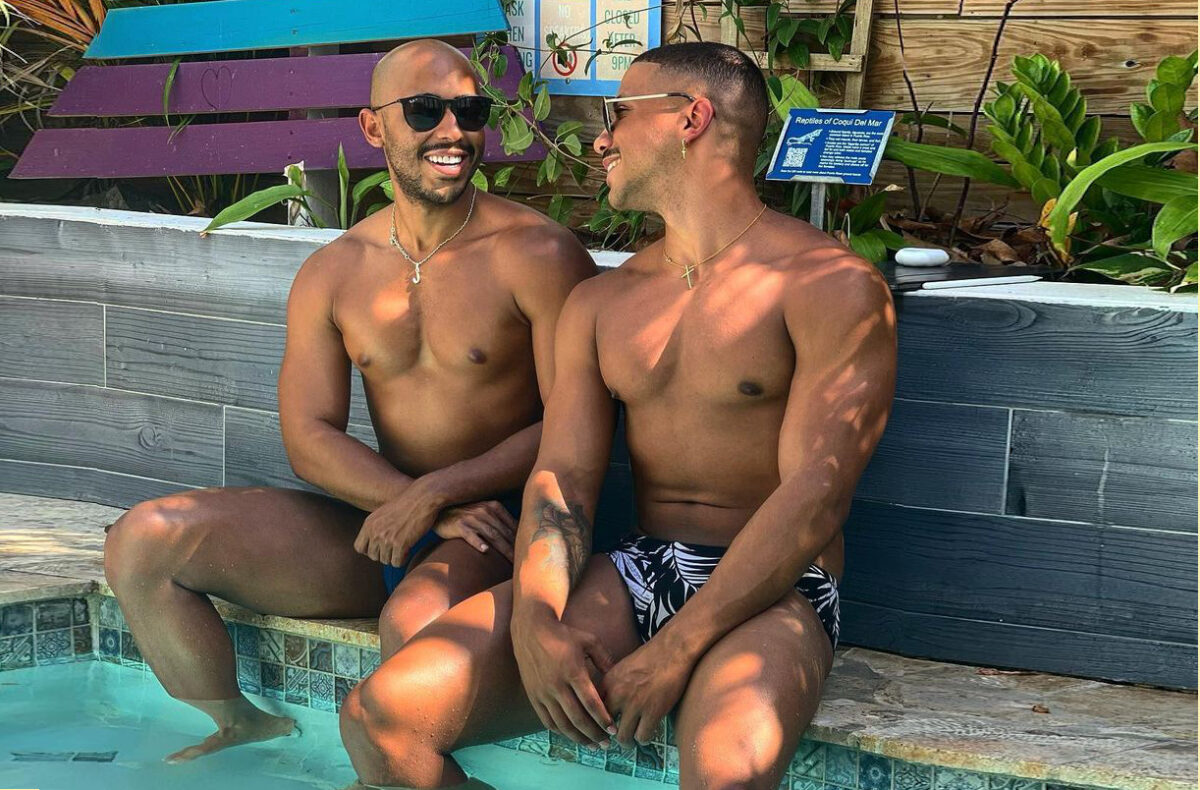 Love is Love and We Specialize in Same Sex Weddings
Rob is a licensed wedding celebrant in Puerto Rico, and we specialize in same-sex weddings, so ask us about our wedding packages. A wedding is about love, not money, and we can help you do something perfect for you within your budget.  Puerto Rico makes a perfect Destination Wedding and its easier than you might think to get married here.  Rob can hand walk you through the process so that you can relax (as much as is possible) and enjoy YOUR day together.  Use our list of resources to put together your own wedding plans, or look at our no stress packages.