Have you discovered the hidden gay naked beaches of Puerto Rico? They are hidden, but in every part of the island. Some are on the north coast, some nudist beaches are on the east coast, and some on the south coast. We have our favorite.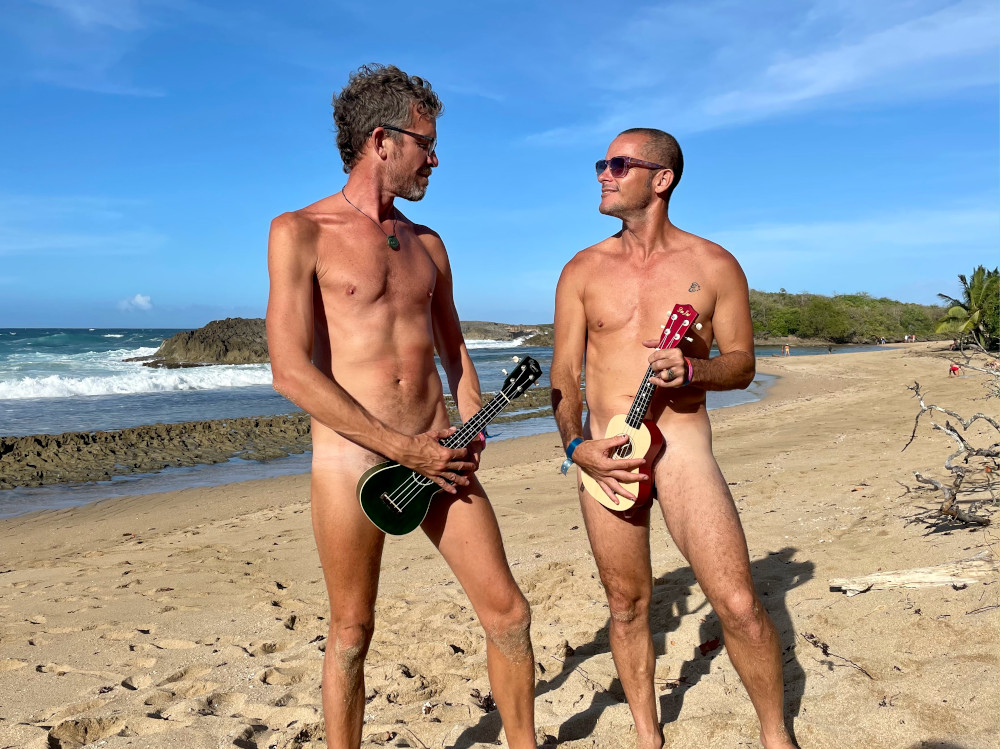 Our favorite naked beach
Puerto Rico does not have any OFFICIAL naked beaches, but with the hundreds of miles of existing beaches, people have "unofficially" found a few. We have our favorite near Arecibo. The adventure starts off with about an hour-long drive from San Juan. We park on the street that leads to the beach. Eventually, you'll find the walking path through a construction site, via a forest, and across a small creek. Finally, you will see a mile-long beach that may have a few families at the outset but thins out to gay, naked men in a short while. Claim one of the small "forts" set up along the way. Some of these lead into the "hidden enchanted trail". Follow this to find a tropical forest with amenities like a hammock swing and magical happenings.
North coast beaches are typically beautiful beaches with clear water. Surrounding reefs protect the beach from the north coast waves. Your guide can show you which areas to avoid (to avoid the sea urchins) and which areas are safe to explore. Nearby you can rent horses or enjoy exploring picturesque caves and vistas. This trip is not complete without a roadside stop for fresh fruit, a smoothie, or "pinchos" (delicious chicken on a stick). Of course, we have our favorite stand. Occasionally, we might even stop at the high-end outlet mall before hitting the beach (depending on guests' preference).
Where and when not to go
There are many different unofficial nudist beaches, but some are better than others. There are those that require a long drive, followed by an even longer hike. Others may have some hidden gems close by to also explore. It's as important to know where to go as it is to know when to go. If you go on the wrong day, you may arrive to find families, police patrols and just generally not an atmosphere for ditching your bathing suit.
Sign up for a naked beach tour
Come sign up for a gay naked beach tour leaving from our guesthouse, most Thursdays at 10 am, returning by 5 pm. Relax and enjoy an air-conditioned van tour with a group of others for this outdoor COVID-safe activity. Drinks are included and you'll be among guests from Coqui del Mar and the local area. The tour ends back at Coqui del Mar where you have a chance to mingle with your new friends and enjoy welcome tapas and drinks back at the guesthouse with new friends.
Book your stay now and start your adventure.